Ferdinand Omanyala's wife responds to Huddah wooing her man
The African 100m record holder, Ferdinand Omanyala and his wife, Laventa Amutavi, were recently interviewed by Massawe Japanni on Radio Jambo, and the couple opened up with details of how they met.
The star's wife was asked how she handles social media pressure. Laventa explained that she has learnt to take things as they come.
"I am positive about fame because at the end of the day it is something we always imagined. It was a dream that we never thought would come to reality. It is very humbling and you get to understand that this is how it feels when people could appreciate what Kenyans are doing," the mother of one said.
Also read: Radio boss Jeridah Andayi opens up on losing her second child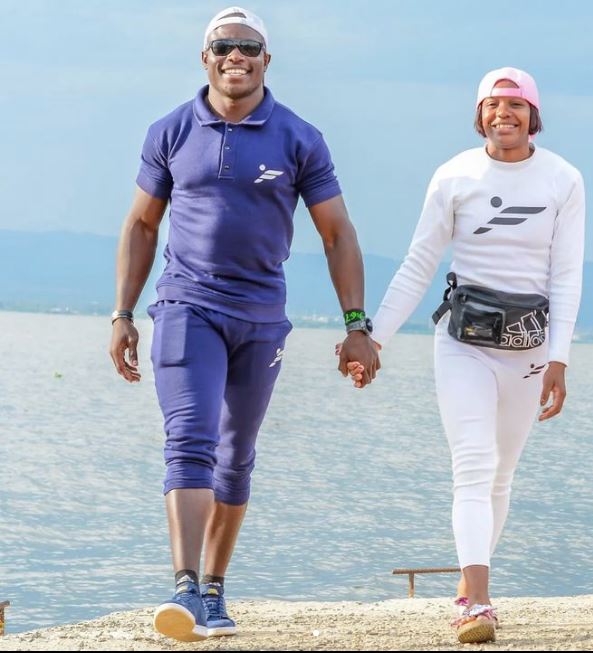 Laventa also talked about her inspiring story of fighting heart disease. Omanyala and his lover Laventa met in 2016 at a sports function.
Asked if they are officially a couple, Omanyala said, "Not yet, but we are planning to do it soon.
Does he get pressure from his friends and family to get more children?
Omanyala said that he is giving his lover, Laventa Amutavi, time to explore the world of athletics; therefore, he does not want to get more children yet.
"I would want her to get to where she wants since she is also an athlete. For now, although our mums say they want more kids, We are okay with our son Quinton Omanyala who will be joining the school in January."
Also read: Gone too soon: 5 Famous Kenyan TikTokers who have died in 2022
A few months ago, Socialite Huddah Monroe asked a local blog to hook her up with the athlete.
"Omanyala is not so bad looking, hapa Kenya ni kama sitoki."
Omanyala, however, turned down the offer saying he was already taken.
During the interview, his wife was tasked to respond to such advances from women and how she handles that.
"It all depends on the man and how willing he is to protect their relationship. I cannot police how he should relate with women," she said.
Also read: Karen Nyamu blasts fans suggesting Samidoh get a paternity test
Omanyala, on the other hand, said he gets many messages on his social media, especially after fame.
"Women and even men come to my DM wanting to have a relationship with me. But I have to be principled."
On who made the first move, Laventa said they met in inter-university competitions.
"We were both running and I had identified him as he was becoming popular but I did not make the move."
Also read: Zari Hassan defends viral video of Diamond explaining why they broke up
Omanyala said it took him half a year for his lover to agree to date him.
Asked why she took long to accept him, Laventa said she was afraid he had other women.
"I was not sure why he did not have a girlfriend and I also wanted to know how persistent the guy is. I was like why does he not have a girl at the UON? I had to take my time."
Most of the time, Omanyala has attributed his success on the track to hard work and having a supportive partner by his side.
Also, read our top stories today:
Janet Kanini's widower, George Ikua, talks about going into debt
Exclusive: Inside the spellbinding relationship between Nameless and daughter, Tumiso
How I missed an opportunity to perform for Uhuru – Embarambamba
Meet Citizen TV journalist charging Sh 2M as social media influencer