How Abel Mutua wedding left him flat broke with no savings
Kenyan actor Abel Mutua, popularly known as Mkurugenzi, took to social media to reveal how he nonchalantly proposed marriage to his girlfriend of seven years in 2015 and unsuspectingly found himself in a white wedding when they had agreed on tying the knot before an Attorney General.
In his hilarious narration, Abel revealed that he and his girlfriend, Judy Nyawira, had been driving along the by-pass when he ignored traffic, looked her in the eyes and casually asked her, "tunaeza kaanisha?"
"In 2015, do you know what was happening in November? If you don't know, worry no more. Do you know why? Because I got you, people. In November 2015, Mkurugenzi decided to tie the knot, but there is a story first.
Also read: Heartbroken pastor dumps serial 'dowry swindler', calls off wedding
"Let me take you back to August 2015 when Mrs Mkurugenzi and I were cruising along the bypass heading home from Phil's house. I thought to myself, 'I've stayed with this girl for a long time now. Why don't we just actualize this thing once and for all?'
"So I proposed to her in a world-class way,  in a way that has never been seen anywhere else and is only for wakurugenzis. While on the highway, I looked her straight in the eye without caring about pedestrians, oncoming vehicles, nothing.
I looked her in the eyes for two seconds and told her, "Hi my girl, tunaeza kaanisha? (can we continue staying together?) and the answer was a resounding 'yes, tukaanishe mtu yangu, Tumekuwa hapa na wewe sijui for seven years sijui tunangoja nini' (yes, let's stay together. We have been together for seven years I don't even know what we are waiting for) and that's how I proposed," said Abel Mutua.
It was then that she decided that she wanted the wedding to be on her birthday, three months later and too soon in Abel's opinion, because others take up to a year to save and plan for their weddings, and they agreed on an AG wedding.
Also read: I broke my virginity on my wedding night – Dann Mwangi
However, the story evolved over time, and she began wanting different things after interacting with friends at the salon.
He revealed that she would often come home on different occasions and say she now wanted a small ceremony after the AG wedding, suddenly, the number of guests ballooned from 20 to 100 so that they didn't lock out people, she now wanted a line-up. Before he realized what was happening, they were now planning a fully-fledged white wedding.
"I have no clue how we arrived at this place to date, but Nairobi called me for a meeting and asked me if had the money for a white wedding.
I told Nairobi I didn't have the money, but I had savings to pay for the wedding. Nairobi was shocked, and I told it to calm down.
Nairobi folded its hands and watched from a distance as we put a pin in it. So in November, we had our wedding, and I had used all my savings on the wedding," added Abel.
Also read: CITY GIRL: Big white weddings are for broke people, destined to fail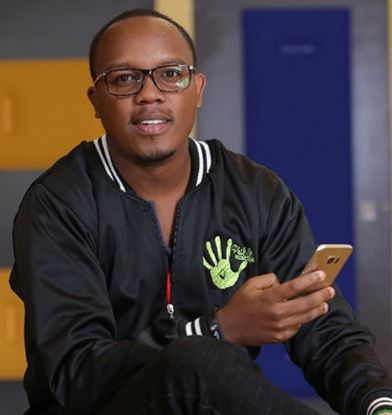 Eventually, he and Phil decided to chart their own paths as film production house founders after falling out with a local media house.
Broke and jobless, the duo tried making money, but it proved difficult as no stations were interested in buying their productions- including one where Kate Actress funded a pilot shoot.
"There was nothing I was bringing to the table. Only Mrs Mkurugenzi was busy hustling and it got to a point where it was so bad that even paying rent was a problem, and I was sweet talking the landlord to give me some time to clear the arrears," added Abel.
He revealed that they hit rock bottom and they had begun 2016 as a couple raising a young baby girl- and his wife was a single mother of two because she was also raising her husband.
Then, he decided to look for employment after swearing never to work for anyone.
Also read: Daddy Owen: Living alone after breakup almost broke me
Things, however, looked up later in the year when they were asked to join a South African international media company that bought their content and tasked them with producing shows for them.
"We sat our wives down and told them, 'Now, there is light at the end of the tunnel. You held us down for almost seven months but the money we are going to make, we want you to go to the real estate sections of newspapers and look for the cars you want', because we were talking tens of millions to produce these shows. They wired us 40% of this money and I looked at my account for a whole day. We knew we had become instant millionaires," said Mutua.
Their excitement, in the end, made them overpay the people they hired and ended up incurring a loss of Sh 5 million before they had completed the production of one of the series; and found themselves in a worse position than before they were given the contracts.
Friends bailed them out to some degree, and after the show production finally ended, they were re-commissioned by the company for another contract.
Phil-It productions grew from that point onwards.
Also read: Drama as woman storms wedding to claim 'husband' – PHOTOS