Inside Amber Ray's introduction ceremony as Kennedy Rapudo meets her family
Socialite Faith Makau, alias Amber Ray has officially introduced her boyfriend, businessman Kennedy Rapudo to her family.
In a video making rounds on social media, Amber was seen having fun while wearing a long African print silhouette attire.
She served her husband a drink before his friends and relatives while smiling ear to ear like a Cheshire cat.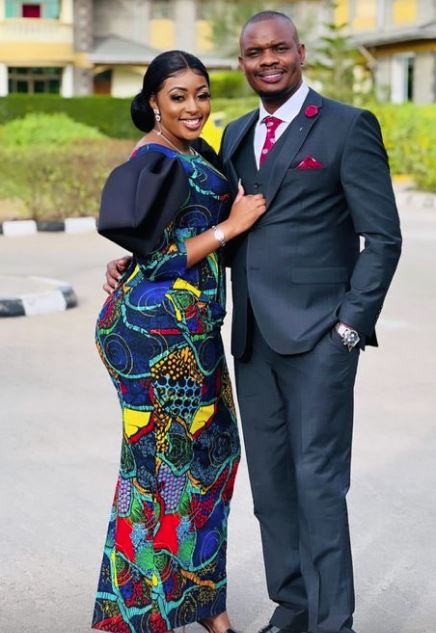 Rapudo had his sunglasses above his head and received the drink Amber gave him while making a comment leaving Amber beaming with excitement.
Also read:  Exclusive: Nick Ndeda on why it didn't work out with Betty Kyallo
Amber also shared videos of behind the scene as the food was being prepared for the guests.
Amber being a Kamba, Rapudo should prepare for a series of courtship rituals.
Before a marriage ceremony is conducted, the groom (with his kin) must throw an important party popularly referred to as Ntheo which, according to the videos online, must be it.
View this post on Instagram
This is the minimum requirement that demonstrates the bride officially belongs to the man she is engaged to.
Also read: Exclusive: How Alikiba's efforts to reconcile with his wife hit a brick wall
Ntheo ceremony must involve at least three goats, one of which must be a he-goat that is not castrated.
There is no restriction on the number of goats you can have, as long as it adds up to an odd number to be given to the bride's family as part of the Ntheo ceremony.
At the ceremony, only a handful of close relatives of both sides of families are involved. The he-goat is then slaughtered by the groom, or alternatively a brother to the groom.
Further, the couple receives a piece of soft meat from the butchered goat known as kikonde, which they are required to consume as "an oath" that they will uphold the terms of their marriage.
Women and children are given soft drinks, while men are given Kaluvu, the local Kamba beer. It is the groom's duty to make sure drinks are provided in an appropriate quality and quantity for all attending.
Once the Ntheo ceremony is done, the process of 'buying a wife' begins. The bride's kin presents the numerous items they will require as dowry.
Also read: Gone too soon: 5 Famous Kenyan TikTokers who have died in 2022
However, these products can be paid in instalments discussed amicably by the two families involved.
Dowry is popularly referred to as Ngasya, and top of the list are 48 goats, which must eventually be delivered to the bride's family.
Others include two drums of honey, referred to as Ithembe, two blankets and two-bed sheets.
It is interesting how things are turning out for the couple despite confirming a breakup in August.
Through her Instastories, Amber said the relationship was not working, and she could no longer pretend things were okay.
"Nop, I know mahali imefika I might look like a joker but manze I don't know how to pretend if it's not working…it's not working …so munipende tu vile niko," she wrote.
Also read: Exclusive: I hid my pregnancy from my daughters – Wahu 
Rapudo on the other hand, explained that they had 'structural irreconcilable differences' that saw them part ways just months after announcing that they were an item.
"Life happens, right? Ideally, we had structural irreconcilable differences, but that doesn't change who she is. She is a very nice person with an amazing heart and a beautiful soul.
Mine is to wish her happiness and God's favour wherever she goes. I think we deserved each other, but things didn't work as planned," he wrote while responding to one of his followers.
Also, read our top stories today:
Exclusive: Sarah Kabu talks marriage, breaking up
Exclusive: Inside the spellbinding relationship between Nameless and daughter, Tumiso
She hasn't moved on! Ben Pol calls out Anerlisa for celebrating divorce