Inside the turbulent marriage of Papa Shirandula actress and Pastor Ephantus
Ephantus Wahome Safari, the former husband of the popular Papa Shirandula actress Kawira – real name Joy Karambu, has broken his silence and shared intimate details about their now-dissolved marriage in an emotionally charged interview with Presenter Ali.
Kawira, known for her role in the beloved Kenyan TV show, ended her marriage to Pastor Ephantus on June 16, 2020.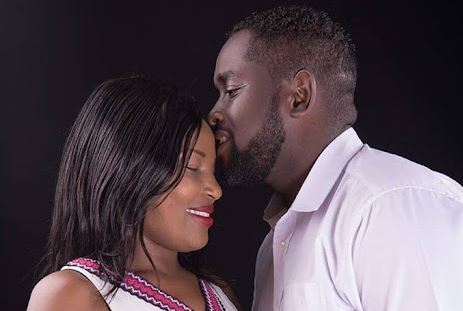 Also read: Form ni kucheza chini: I'm okay, Papa Shirandula actress Kawira reassures fans
In the revealing interview, Ephantus recounted their journey from the day they met to the unforeseen circumstances that led to their separation.
He began by vividly recalling their initial encounter, which took place while he was working as a stage manager during an event.
He recounted how Kawira's behavior backstage intrigued him, prompting him to offer her a ride home.
She was initially hesitant to share her home location but accepted an umbrella he offered her.
Ephantus admitted that he confessed to colleagues that he believed Kawira would one day be the mother of his children, even if not necessarily his wife.
"I got interested. I requested to give her a ride, but she refused for us to know [where] her house is located. I gave her an umbrella, and the next day, I told my colleagues that she would be the mother of my kids, not my wife," he explained.
Also read: Watch: Meru Governor Kawira Mwangaza interrupts husband's steamy dance with damsel
Their relationship blossomed despite Kawira's busy schedule, and they shared strong faith ties.
They attended counseling as part of their journey, leading to a grand wedding celebration.
However, Ephantus revealed that societal pressure led them to change their plans to wait two years before having children.
"We had a plan not to get children until two years. We felt like we were young. People could not understand our vision, and they started pressuring us. We agreed to get a child, and we conceived the first one, but it was a blighted ovum, and our doctor advised us to terminate, which happened. From there, after two months, we conceived triplets and we walked together."
Despite this setback, they persevered and eventually conceived triplets, tragically losing one of their unborn children six months into the pregnancy.
Ephantus shared that the medical bills escalated, but through faith and support, they managed to raise the necessary funds.
"Challenges started. Thereafter we brought in her mother. Issues were many, but she said her mother was the one who she would have trusted with our kids," Ephantus revealed.
Disagreements ensued, and one day, Ephantus returned home to find the house empty, with no prior arguments. He made several attempts to reach Kawira but received no response, leading to a growing sense of despair.
Also read: RIP: Brenda Kawira grew up wanting to be a nun – mother reveals
"She did not call me the whole day. I got home, and there were no lights, and I realized there was nobody. I checked on the CCTV, and there was nothing. I am human, and I did not call after I realized she had packed her things. I called one of the family members, and after calling, they didn't pick. I started calling her friends, and most of them were giving me negative answers. We were in marriage for six years. I kept on trying to reach out. I was sending support, but she could not pick my calls. It started becoming too much, and she blocked me."
Ephantus went through a tumultuous period marked by depression and isolation, despite his role as a marriage counselor.
He disconnected from friends, began drinking alcohol alone at home, and eventually found himself in a state of deep despair.
However, he had a moment of clarity and decided to seek help, leading to his recovery from depression.
He emphasised the emotional impact when Kawira began publicly discussing their marriage issues, and he attempted to contact her even from an ambulance, fearing he might not survive.
"What hit me was when she started going for interviews defaming me. I was hospitalised. I called her while in an ambulance, and I requested her to allow me to speak to my kids before I died, but she did not pick up my call. I was admitted to Mater Hospital due to depression. I thought I would die during that time. My sugar levels were high. We prayed, and the next morning my sugar levels were okay."
Also read: Inside Brenda Kawira's doomed relationship with DJ Dela
Ephantus expressed gratitude that he did survive, eventually recovering from his depression and choosing to forgive and release her entirely.
In his concluding remarks, Ephantus acknowledged that he had rushed into marriage, and compatibility issues had played a significant role in their challenges. He emphasized the importance of co-parenting their children and not placing blame but rather recognising that marriage requires effort from both partners.
Despite their journey, he said he still offers counsel to couples navigating the complexities of marriage.
"I decided to forgive completely and let her be. I released her completely. Stories come, that she is dating people I helped in life. She should also be happy when she hears that I have moved on. She is idle, and that is why she is always speaking about me. A good man should look for her. For me, I have healed, and I am okay, I did not die. It is my opportunity to work out where I failed. Marriage works, but it should be a two-sided effort to work on it. I did not see anything that was huge for it not to work."
In a past interview, Kawira said she did not listen to God but was mesmerised by her ex's dark and handsome looks. She said Ephantus was her first love, but they failed to connect.