OPINION: Does Amber Ray really deserve a happily ever after life?
Admit it, for a second before you caught yourself, you laughed out loud at Instagram influencer Amber Ray's latest update on her love life.
"A new day to start as a single mother of 2…#Donewithlove," announced Amber Ray on Wednesday, March 29, 2023, as she added Celine Dion's A New Day Has Come song to the post.
Also read: Amber Ray and Kennedy Rapudo split two weeks after lavish gender reveal
It's hard to sympathize with Amber Ray. Truly. This woman actively ruined two marriages to be with married men who funded a soft life for her.
She insulted and lied about these wives, flaunted their husbands on social media, enjoyed their monies while their wives and children languished and even went ahead to get pregnant for one of them before tragedy struck. She was the mistress every wife dreads.
Amber Ray was basically a celebrated homewrecker who loved the attention and being gaslighted by her 'questionable morals' followers to live her life to the fullest at whatever cost because of YOLO.
And then she was shown the light. Her now ex-fiancé, Kennedy Rapudo, showed her a new side to love, and suddenly, Amber was singing God's praises for being blessed with a man of her own, a rich man who knew how to love her the way she wanted.
She began turning into a relationship and marriage counsellor with her social media updates.
Also read: Why comedian Oga Obinna says he couldn't get a date with Amber Ray
At some point, Ms Influencer over here even thanked God that she was finally settling down with a man who honoured her and proposed marriage to her before they got pregnant weeks later.
A man who was ready to build a blended family with her and her son from a previous relationship; and his children from a previous relationship as well.
But see, this is the same man with whom they are now breaking up for the third time, reconciliation pending- or not.
Their whirlwind relationship had all the hallmarks of a quicksand-sinking vibe. They got together a few weeks after Amber got out of another relationship, broke up after seven weeks, got back together a few weeks later, and he proposed days later while on vacation in Dubai.
We understand that love can be hot sometimes, but this one was suspiciously hot with a side of carbon monoxide and braggadocio.
What was the speed for?
Also read: Amber Ray justifies splashing cash on her baby gender reveal party
Days later, Amber and Rapudo were announcing their pregnancy- and the ensuing months were full of social media updates about their blended family.
Only for them to have issues and take a break from each other, deleting each others' presence from their socials, then they got back together again, with Rapudo saying they too, had relationship issues like every other couple. Still, he did not foresee them breaking up any time soon.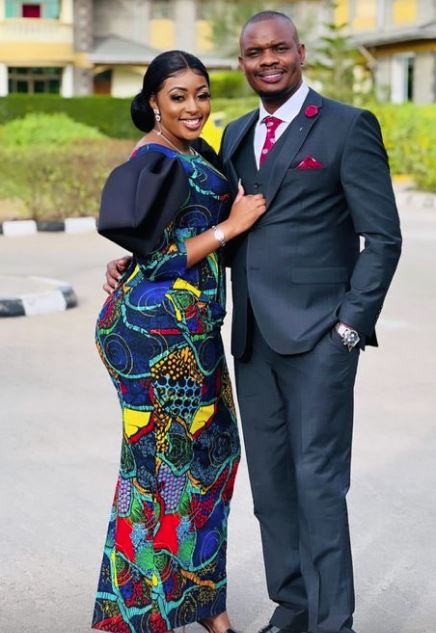 Well, good morning Mr Rapudo. It's that day. Amber amefanya ile kitu tena. And you happen to be collateral damage for the sins she's paying for.
Isn't it time that Amber Ray realized that there was no way on God's green earth that she could ruin marriages and think she would have a good marriage?
Karma does not work like that. God may forgive you, but His judgement still awaits you- and we get to see it live in colour before we are all called home.
Also read: Amber Ray: I have been reduced to mother and housewife
Here's your Bible study verse for the day, Amber Ray. Matthew 19:5-5, "And God said 'For this reason a man will leave his father and mother and unite with his wife, and the two will become one.' So they are no longer two, but one. No human must separate, then, what God has joined together."
In other words, what God has joined together, let no man put asunder. You, Amber Ray, are an asunder – twice over (on the relationships we know of) – and the chicken has come home to roost.
Dear Mrs Politician's wife, dear Amira- while it is not good to laugh at or enjoy anyone's misfortunes, I hope this turn of events eases the hurts in your hearts somewhat for what Miss Influencer put you through.
Dear Kennedy Rapudo, find a corner and heal too. We never meant to say mtaachana tu because of Amber's scandalous history with several men, but here we are…
Dear Amber Ray, we hope the pregnancy goes well and you welcome a bouncing baby girl, but we pray she takes after Rapudo, and not your infamous characteristic traits…no dissing.
Just facts.
Also read: Amber Ray's plan if fiancé Kennedy Rapudo dumps her