Photos: Museveni's daughter renews marriage vows with husband
Patience Kokkundeka Museveni, the daughter to Uganda's President Yoweri Museveni and Mama Janet Museveni, renewed her marriage vows to Odrek Rwabwogo, her husband of 20 years on Saturday, 20 August, 2022.
Their initial marriage took place on July 20, 2002.
The lavish church and reception ceremony took place in the outskirts of Kampala at a set up overlooking the majestic Lake Kakyeera in Kiruhura District. Several friends, family and dignitaries attended the event.
Pastor Patience wore a one shoulder simple wedding gown in design but unique for its voile fabric that was used to design her shoulder strap and the outer layer of her wedding dress and topped it off with a silver princess tiara.
Also read: Lee Njiru talks about his 'diary' that details Moi's entire life
Her husband, Odrek, complimented her ensemble with a white suit jacket and paired it off with black slacks.
Considered the wedding of the year by Ugandans, the couple emotionally exchanged vows, led by Bishop Joshua Lwere, in affirming their initial vows to remain faithful to each other, take care in good times and the bad, as well as in sickness and in health.
Soon after, Patience's parents spoke at the event, leading to their daughter being unable to control her feelings evidenced by the crying she did.
Her mother, Mama Janet, thanked God for bringing the couple together and blessing them with 20 years of marriage.
"And I thank you, Odrek, for keeping your word of loving and taking care of Patience all this time. I pray for more beautiful years in marriage!" said Mama Janet.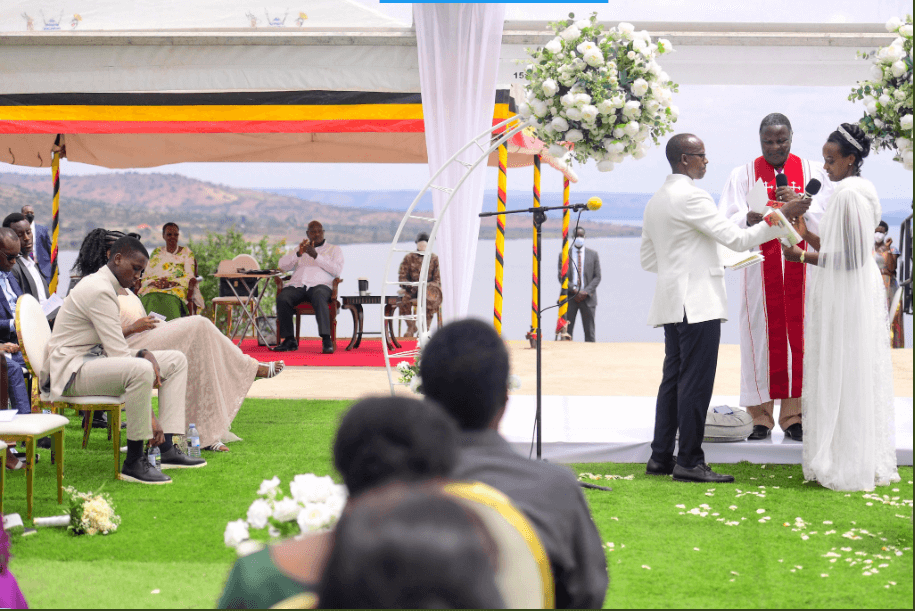 Also read: Turning in his grave: The late De Matthew's wives 'fight' on social media
President Museveni, on the other hand, congratulated the couple for being patient with each other and for developing their home village.
"It has been by the grace of God that I was given a family, children and grandchildren. My children have been protected by God and he has prospered them despite that abnormal period of liberating the country.
Patience has been a very peaceful child since childhood. Thank you for adding value to what God gave us and bring more development to this village. When I was coming, I saw cows eating nothing. Please grown more grass for them," President Museveni told the couple.
Pastor Patience is the third born among four Museveni children. She is a Pastor at Covenant Nations Church in Buziga, Kampala, while Odrek is an entrepreneur and Special Advisor to President Yoweri Museveni.
The couple are parents to two boys and two girls and are ardent, large-scale farmers as well, just like President Museveni.
ALSO READ:
IEBC boss claims goons wielding crude weapons attacked them at city hotel
Pastor whose car was attacked by Mathare youth after result announcement speaks