Vera Sidika announces plan to unblock Otile Brown and other haters
Socialite Vera Sidika has decided to unblock all the individuals she had previously blocked on social media.
In a recent Insta Stories post Vera also shed light on the reasons behind blocking fellow celebrities.
"I will unblock all of them. The world is more fun with haters, even though they started using fake accounts to stalk me. Now they can use their own personal accounts. I will not be blocking anybody ever, so be free and stay in character," Vera said.
Also read: Awkward moment – Body count revelation returns to haunt Kamene Goro
"I am unblocking everyone, including those who have campaigned on blogs that Vera has blocked me, including my exes, one of whom will soon be my neighbour. And I don't have time on my hands to unblock," she said.
The socialite has been known to block various individuals, including fellow celebrities.
Vera has always maintained that she only blocks individuals who send negative messages to her direct messages (DMs) or spread hate.
She also said she blocks those who display fake love on her page but leave derogatory comments about her on other social media platforms
Here are some notable personalities who have faced the blocking wrath of Vera Sidika:
Otile Brown – During an interview with Wasafi TV in 2019, Vera revealed that she blocked Otile Brown following their scandalous breakup, saying "When we broke up, I blocked him."
Noti Flow – Last year in June, rapper Noti Flow disclosed that she was also on Vera's block list. Noti Flow expressed her surprise saying: "Alaa! She blocked me too, so petty."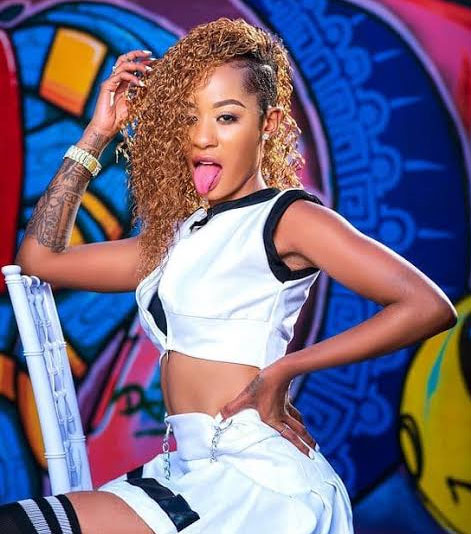 Corazon Kwamboka – In an interview with Mungai Eve, the mother of two, revealed that Vera had blocked her for no reason at all. Vera responded by stating that those complaining about being blocked know exactly what they did to her.
Risper Faith – The socialite is on record for saying that Vera blocked her on Instagram. Risper had posted throwback photos with her husband, Brian, and fans noticed that her body structure remained the same. When a fan commented that her behind was natural unlike Vera's, Risper said: "She blocked me a long time ago."
Also read: 
Zuchu features her mom Khadija Kopa in remix of the song 'Nani'
Boniface Mwangi calls out Nyege Nyege Kenya for brand theft