Weapon ties: Inside the Sh67.3m gold scam and what DCI is uncovering
Detectives from the Directorate of Criminal Investigations (DCI) are on the hunt for answers as they investigate two of the suspects involved in the Sh67.3 million gold scam.
Steve Seth Okute and Samuel Waithika Gathuru, both licensed firearm holders, have raised red flags among police officers as they were both caught with firearms in their possession.
Detectives seek to find out if the two are running an underworld weaponry business.
Okute, the Director of NewSkys Global Cargo Movers, was found with a Baretta pistol loaded with 13 rounds of ammunition.
Also read: How senior government officer was arrested trying to rescue Sh67m gold scam suspect
According to security experts who spoke to Nairobi News, a Baretta pistol is semiautomatic, 9mm, M9 and is mostly used by the United States Armed Forces, the US army adopted it in 1985, while a Sig Sauer P229 pistol is explicitly developed for the US market and assembled with both German and US-made parts.
Meanwhile, Waithaka was found with a Sig Sauer P229 pistol, which records show is registered in his name at the Kenya Firearm Licensing Board (FLB).
However, the officers were also tipped off that Waithaka was in possession of more weapons that were not found on the scene.
A detective privy to the ongoing investigations and who spoke to Nairobi News on condition of anonymity said that officers had already received intel that he had several other weapons.
"The officers who went to the scene had already received a tip-off that he was in possession of more weapons which were missing from the scene," said the officer, who spoke in confidence as he is not authorised to address the media.
Also read: Woman arrested for defrauding foreigner Sh300m in fake gold scam
The detective continued, "It doesn't make sense that one is in possession of bullets used in submachine gun models and a Gilboa assault rifle, yet we could not find the actual firearms at the time of the raid."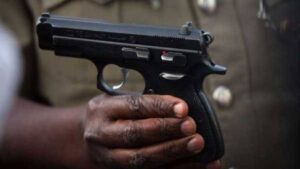 The firearms in question include a submachine model 1982 R0635, a Ceska pistol with 15 rounds, and a Gilboa assault rifle.
Kiprotich Said Mohamed, the Head of Operations for DCI, says the firearms have been handed over for ballistic testing to determine if they were used in any criminal activities in the country.
Okute and Waithaka were among ten suspects arrested and linked to the gold scam but were released on a Sh100,000 bond by the Milimani High Court in Nairobi County.
The other eight suspects include Brunoh Otieno Liende (aka Oyugi), Kaisarios Loamms (a Greece citizen), Odhiambo Tobias Patrobas, Oketch Moses, Patrick Mugabe, Elisha Mbandi, Teddy Zamora, and Siva Sakthi Veru (an Indian citizen).
The DCI continues to work to uncover the truth and find out if there are any weapon ties to this Sh67.3 million gold scam. Stay tuned for more updates on this developing story.
Part two continues tomorrow…
Also read: City businessman linked to fake gold scam denied Sh140m in SGR land deal