Why widow caught in property tussle with in-laws now fears for her life
A widow living in Kitisuru, Nairobi County, with her two daughters claims that their lives are in danger after what they say was being trailed by unknown assailants who have been parking unmarked cars outside her compound.
Ms Florence Nderitu told Nairobi News that her troubles began on December 10, 2022, when over 30 goons stormed her home in what now turns out to be a property tussle with her in-laws.
According to her, she was in the kitchen preparing breakfast that day when she heard a noise and a commotion outside the house.
Ms Nderitu then rushed outside, only to come face to face with an excavator that had already demolished part of her fence.
"It is then that I screamed and called out to my two daughters, telling them that we had been attacked," Ms Nderitu told Nairobi News.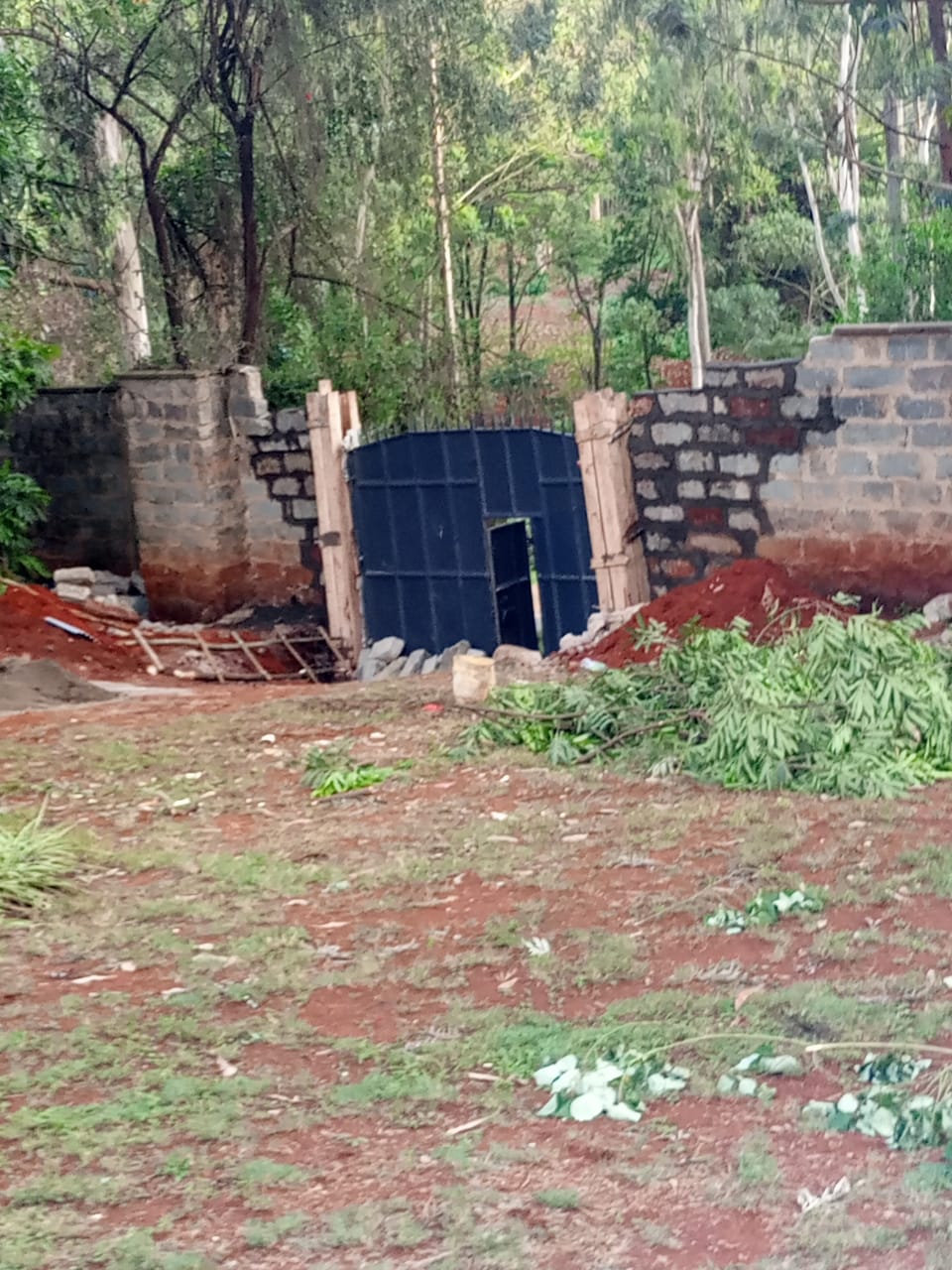 She said as she was trying to inquire what had transpired but the OCS of Spring Valley Police Station, Mr Kennedy Owino, ordered that they be arrested.
Ms Florence said that she, alongside her two daughters, Ms Wambui Nderitu and Ms Wariara Nderitu were thrown into a waiting police land cruiser.
Also read: Our hearts are broken: Slain LGBTQ activist Edwin Chiloba's adoptive parents mourn
She said they were then taken to the Spring Valley police station and thrown into the cells. When she tried to inquire what had transpired, she was told that they had broken a vehicle's windscreen outside her compound.
"I was shocked that the OCS was not talking about the incident where people had stormed into my compound but only focused on a broken windscreen," she said.
According to her, they spent a total of 13 hours in the cells, and the OCS was nowhere to be seen so he could process cash bail and let them free.
The OCS later came back to the station a few minutes past 11 pm, and he processed a cash bail for the three after Ms Nderitu's lawyer demanded it.
Despite being released after paying Sh90,000 as cash bail, Ms Nderitu insisted on being given an OB number for the case, which the police officers objected to. After insisting, she was given the number OB24/10/12/2022.
Fearing for her life, she did not go back to her home but rather spent the night at a city hotel, the following day she was escorted home by officers from Gigiri Police Station, and she was shocked to see that part of her land had been subdivided.
The previous day before the demolition took place, Ms Nderitu told Nairobi News that she had received an email from her sister-in-law Ms. Angela Nderitu that she should immediately remove a gate that leads to the compound.
Also read: KTN news anchor Zubeida Koome shaves her dreadlocks after 20 years
In the email, Ms Nderitu introduced herself as the administrator of her late father's estate and that the City Council of Nairobi had informed her to remove the gate.
"In line with this notice, I will be bringing down this gate and erecting a new one on the boundary of the plot Lr number 7741/286. Secondly, this is also to notify you that I will be fencing off the piece of land to prevent intermingling of the deceased's estate as part of my duties as the personal representative," Ms Nderitu in the email to Ms. Florence said.
She also shared a copy of the letter with the stamp of the Nairobi City County Department of compliance and enforcement.
Already, Ms. Florence has filed a complaint to the Director of Internal Affairs, the department that investigates the conduct of police officers over how the OCS arrested them.
Also read: Controversial Akorino couple mourn the loss of their child
In the letter penned by their advocate Mr. Ngari Thuku, the three claim that the officers sexually assaulted them during the arrest.
"The OCS at the time of releasing our clients on cash bail even threatened to re-arrest our clients should they demolish the illegal structures which had been put up by the goons in my presence," the lawyer in the letter says.
Contacted, Mr. Owino said that he was aware of the matter, but he instead referred us to the office of the Gigiri Sub County police boss Mr. Patrick Manyasi.
However, a police source at the station told reporters that on December 9, 2022, Ms. Nderitu spent most of her time in the canteen within the station in the company of an officer. The following day, the demolition then took place.
Mr. Manyasi said that the matter was still under investigation, and he had directed the DCI to open a file, on the matter.