Khaligraph, Mejja among Kenya artists to feature in Tusker OktobaFest
Kenya Breweries Limited (KBL) has released this year's artists for the hotly-anticipated 2022 Tusker Oktobafest which is set to take place this weekend at the Ngong Racecourse, Nairobi.
The three-day event which boasts as Kenya's premier beer festival will kick off from Friday, October 28 to Sunday, October 30 marking the crescendo of the Tusker brand's 100-year anniversary celebration.
The festival is set to mirror the first edition which was held in 2019 and will feature more than 100 Kenyan acts on 3 different stages at the expansive venue.
Top Kenyan superstars expected to perform at the event include Nyashinski, Khaligraph Jones, Mejja, Nadia Mukami, Chris Kaiga, Ndovu Kuu, Fena Gitu, Arrowbwoy, Femi One, Buruklyn Boyz, Savara, Bensoul, Maandy, Nviiri the Storyteller, Ayrosh, Ssaru and many more.
Top mix masters Dj Joe Mfalme, Dj Protege, Dj Grauchi, Suraj and many more will entertain revelers.
In keeping with its festival status, the Tusker Oktobafest 2022 will feature much more than beer and music.
There will be a Nexters eSports area, where festival goers will be able to go head-to-head with the Nexters winners in eSports as well as celebrities and influencers, individual and group games, and much more.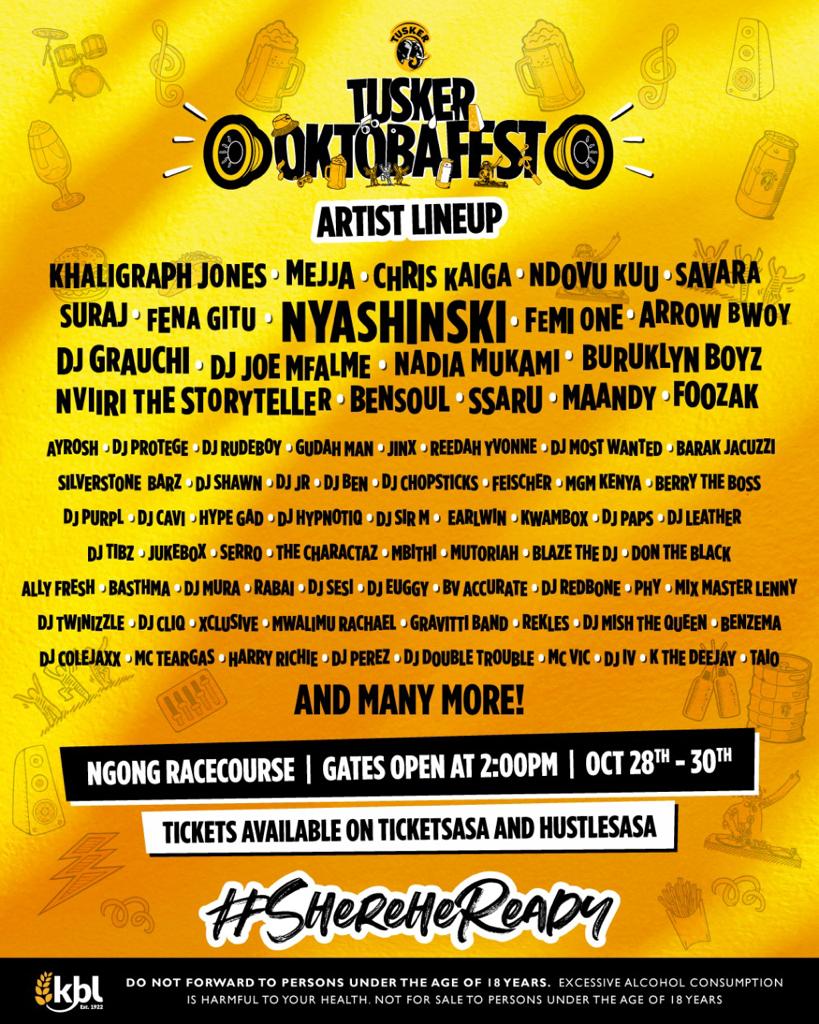 Speaking during the launch event at Ngong Racecourse, EABL Marketing & Innovation Director Anne-Joy Michira said, "Brand Tusker has been a national icon for a century now, loved by Kenyans for that period, and therefore it should be celebrated as such. This year, the Tusker Oktobafest festival will without a doubt build upon its reputation as the biggest nationwide celebration of beer that Kenya has ever seen. This year we are expecting over 30,000 people at beer extravaganza as we celebrate our diversity and culture with great food and music to give our consumers a one-of-a-kind extraordinary experience."
"Through the event, we will also be seeking to celebrate our great Kenyan vibe and twist by promoting our local artists, DJs, and MCs. We, therefore, invite all our consumers to enjoy the greatest beer celebration this October," she added.
This year's edition will be slightly different from the 2021 edition which was dubbed a Festival Deconstructed due to the new normal conditions brought about by the Covid-19 pandemic restrictions that limited the number of people that could gather in one place.
This saw the brand engage in over 100 bars, restaurants and activations countrywide as it sought to take the festival to the people.
This year's edition will also be a mix of both 2019 and 2021 editions that will represent an elevated Oktobafest experience for all fans.
The beer party also heads back to its original home, the Ngong Racecourse, which was one of Kenya's biggest shows to date, attracting over 15,000 revellers in 2019 to experience Tusker at its finest.
The selection of the three venues for this year's edition is meant to spread out the celebrations.