Michelle Ntalami dismisses dating Fena Gitu; tells off fans who criticize her exes
Marini Naturals CEO Michelle Ntalami has come out to dismiss rumors that she is romantically engaged with rapper Fena Gitu.
In a recent post shared by the curvy businesswoman, Ntalami sought to make things clear on the kind of energy she was giving off when she shared a series of photos with the female rapper saying that it was strictly for good vibes. 
The post remains to be the most liked of all of Ntalami's posts, which many of her fans credited to the fact that they appeared to have much more than just a friendship between them. 
"Official my most liked post on IG! First, thank you all so much for the love! Second, I took my time to go through the comments and I had to prune a number of them. This post is strictly about good vibes only!" wrote Ntalami in her stories.
Also read: Mitchelle Ntalami: I'm now ready to date again, but not anyone from Nairobi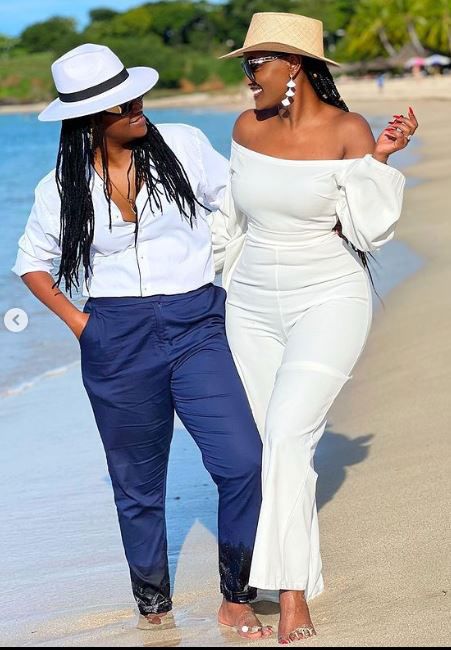 She went on to tell off her fans who were critical in their assessment of her post, with many slyly insulting Gitu and others her ex-lover Chris Makena. Others went to the extent of comparing the two TV personalities. 
"So please, to some of you, no attacks or disrespect will be tolerated to anyone in my past, present, or future on my page. If I myself have never disrespected anyone I value(d) in my life, neither should you. Let's keep living and loving!" Ntalami cautioned.
In another recent phone interview with Milele FM's presenter Ankali Ray, the business-savvy beauty yet again denied claims she is in a love relationship with Fena Gitu. Ntalami noted that she and Fena are good friends and nothing more.
Also read: Makena Njeri: I'm single now but Mitchelle Ntalami will always be in my life
"All I can say is Fena is a very good friend of mine. Fena is a very good friend of mine. I think everybody knows that. We have been friends for years. Those who have met us, we have done projects together with Marini, Fena Menal the brand. We have done music videos together and collaborations. She has been my brand ambassador. We have good working and friendship relationship," she said. 
Ntalami's sexuality has been one many of her fans haven't quite been able to figure out despite her utterance of interest in masculine energy. 
To clear the air once and for all, the businesswoman revealed she is an androsexual, which translates to being attracted to masculine energy regardless of gender.
"I have addressed this before. There is nothing to hide. I am an androsexual; I'm attracted to men or masculine energy. So men can shoot their shot because they are within the bracket of what I'm attracted to," she reiterated.
Also read: Michelle Ntalami speaks on dating men and being a cougar to Ben 10s